Official Esperide Software Tee-Shirt
This is the official tee-shirt of the Esperide project.
It has been specifically designed so that Esperide members can be seen from a great distance, either to find them, or to flee them.
Tee-Shirt Design
Front of the Esperide Software Tee-Shirt
The tee-shirt preview image below is very small indeed. One should see on the pocket the underlined Esperide Software name, at the right of the Esperide Logo, sometimes called the Trident, which actually is a Yama character enclosed in a circle:

This conveys a first mysterious feeling, as there is not much informations that can be gathered from this side.
We are quite satisfied with the font we used, which comes from Larabie Fonts, kindly distributed by Ray Larabie. This particular font is named Xirod.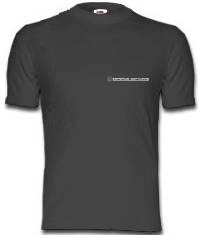 Back of the Esperide Software Tee-Shirt
The message gets still more puzzling: across the shoulders of the wearer, one can see: We Come In Peace. Below, the Esperide logo, i.e. the Trident in its full size, then the Esperide Software name: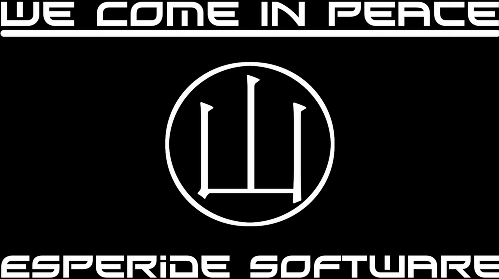 The possible ironical interpretation of the peace message and the threatening trident generate a diffuse feeling of uneasiness: who knows whether the wearer of such an intriguing tee-shirt could be trusted?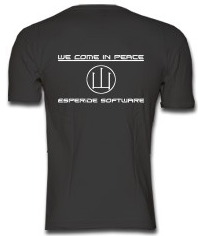 Ordering
The official Esperide Software tee-shirt can be ordered directly from our shop. Its selling price is exactly equal to the cost we pay it.
Please react!
If you have information more detailed or more recent than those presented in this document, if you noticed errors, neglects or points insufficiently discussed, drop us a line!
---
[Top]

Last update: Friday, December 19, 2008